The Strange Tale of …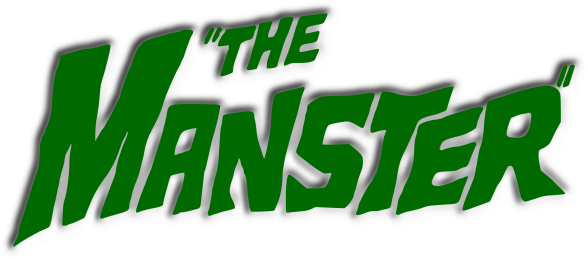 Also known as THE TWO-HEADED MONSTER/THE SPLIT/SÔTÔ NO SATSUJINKI
72 minutes (British cut 67 minutes)
Directed by Kenneth G. Crane and George Breakston
Assistant Director: Dan Takahashi
Screenplay by William J. Sheldon from a story by George P. Breakston
Music by Hirooki Ogawa
Produced by George P. Breakston
Starring Peter Dyneley, Terri Zimmern, Tetsu Nakamura and Jane Hylton

Here is a film that rarely gets mentioned, and if it does, it is usually in very harsh terms. Furthermore, information on this film is scarce. That is why I decided to write down my own thoughts on it and showcase whatever information I have been able to find. I will not spoil the plot as it is pretty straightforward and would make the film less interesting to see if you haven't already, but I will say that it's about a medical experiment gone awry and a man slowly but surely turning into a monster. If you really want to know the details of the plot, you can find them in the contemporary review at the bottom of this page.
The below consists of three parts. First part is The Film, with various background information and my own assertion. Then there is The Legacy where I showcase some of the influence the film has had. Lastly, there is The Addendum which is all the promotional material and such I've been able to find, along with what is probably the first The Manster bibliography in the world.
Part 1: The Film
Production and Release
Little is known about the making of the film, except that it was shot in Japan, probably in 1958 or early 1959, for what seems like very little money. It was released in Japan in 1959, but was not seen in American cinemas until three years later. Here, it was put on a double bill with a film called The Horror Chamber of Dr. Faustus, the latter receiving top billing. Dr. Faustus is today known as Eyes Without a Face and is indeed the beloved French film Les yeux sans visage, directed by Georges Franju and featuring some very evocative cinematography and a killer score by Maurice Jarre, his first. As can be seen in the double bill trailer (found in the Addendum) and other promotional material, this was quite a strange pairing, promising the audience both a "two-headed killer creature" and "a ghastly elegance that suggests Tennessee Williams!" You can't make this stuff up.
Cast and Crew
The film was directed by Kenneth G. Crane and George Breakston with the latter also producing. Crane did not have a big career as a directer with only three original films other than this to his name – one of them being When Hell Broke Loose starring a young Charles Bronson and another the absolutely horrible Monster from Green Hell. The last film he directed is the most obscure film you'll hear about today: Venus Flytrap/The Revenge of Doctor X, also shot in Japan, from a script by none other than Edward D. Wood, Jr. Apart from this, he directed the American scenes (starring John Carradine!) for Ishirô Honda's infamous Half Human and edited quite a few films and TV shows.
Breakston directed a few more films than Crane but is better known as a child actor, being featured in a string of Andy Hardy films starring Mickey Rooney.
In front of the camera, we find an intriguing cast. Starring as the tragic Larry Stanford is Peter Dyneley who some years later gained a level of fame as the voice one of the Thunderbirds, but the supporting cast is arguably more interesting. As the mad scientist (and dialogue coach) we find Tetsu Nakamura who appeared in a slew of Honda films, including Mothra and The Human Vapor. The main bumbling cop is played by Jerry Itô, who was also in Mothra. The hapless wife of Larry Stanford is played by Dyneley's real-life wife, Jane Hylton, who did a ton of TV work. The most interesting feature player, however, is the stunning Terri Zimmern who is completely unknown apart from this movie. Who she was and why she was in The Manster, no one knows – but she does a fine job as the (seemingly) sinister Tara, the assistant of the mad scientist.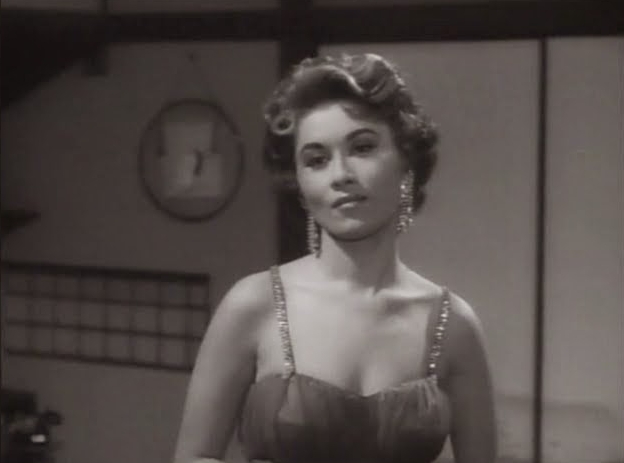 Terri Zimmern
Why Do I Like It?
Because it is unrelentingly bleak. The Manster borrows from the earlier transformation films The Wolf Man (1941) and Dr. Jekyll and Mr. Hyde (1931), but whereas Lon Chaney's Wolf Man was ultimately a victim and Fredric March's Mr. Hyde had a certain innocence about him, Dyneley's transforming man has few – if any – redeeming qualities, no matter what stage he is in. He is a jerk who becomes a bigger jerk, and his idea of "enjoying himself" is the most joyless hedonism you could ever imagine. Add to this the overall seediness of the film, the washed out gray tones of the cheap film stock, the rampant alcoholism of several characters and some pretty absurd imagery, a touch of melodrama, some infidelty and plenty of murder, and you have a unique, disturbing film that is well worth a watch.
Part 2: The Legacy
A very special message from noted author Ramsey Campbell:
I first saw The Manster back in 1961 – the version released in Britain as The Split and cut by five minutes. It was one of quite a few films – The Monster of Piedras Blancas was another – where I missed images I'd seen reproduced in Famous Monsters of Filmland (because our censor had rid us of them, though still giving the films an X certificate). In the case of The Split, I found the final scenes of the unlucky hero on the run with a second head flopping about on his shoulder both absurd and nightmarish - so much so that I included a version of it in my 1983 novel Incarnate. Since then I've seen the complete film and quite like its relentless sombreness, common in the genre back then.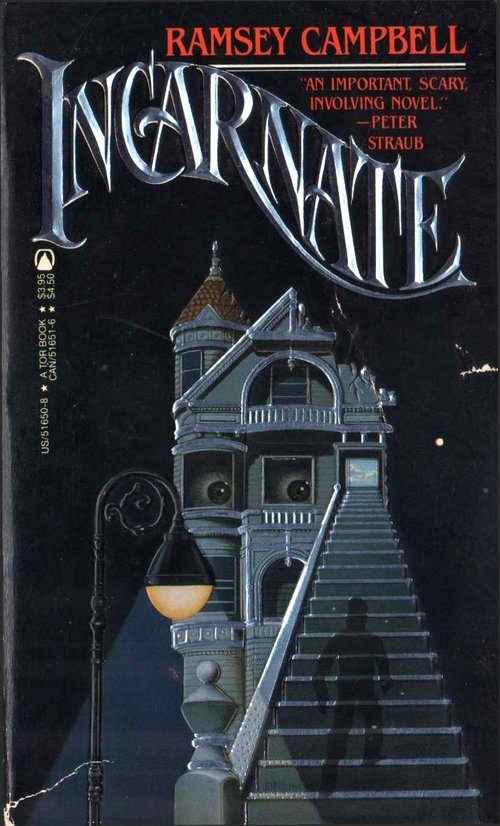 Incarnate book cover
Part 3: The Addendum
Print Ads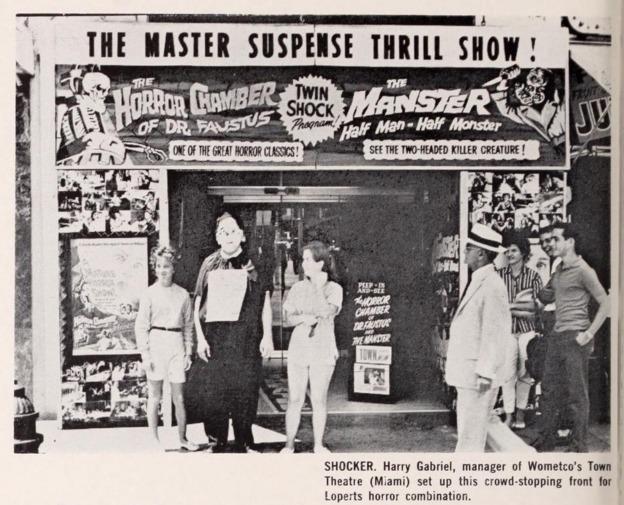 1962 trade ad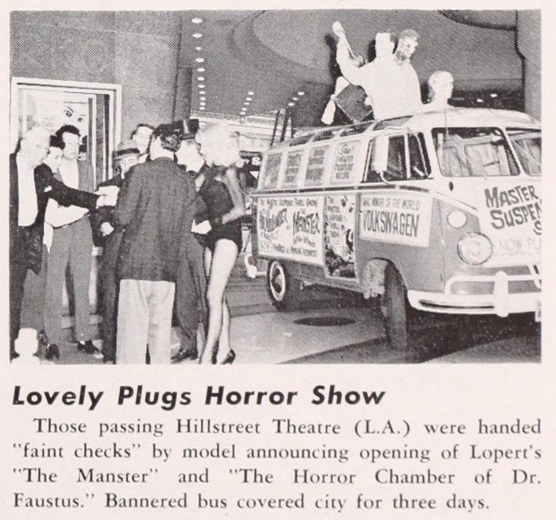 1962 trade ad
1963 trade ad for UAA product, look at the lower right corner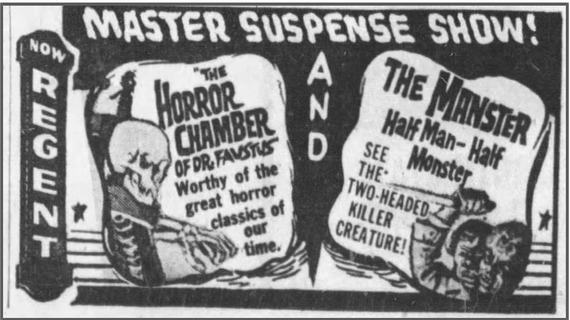 1962 ad, courtesy of "Rick"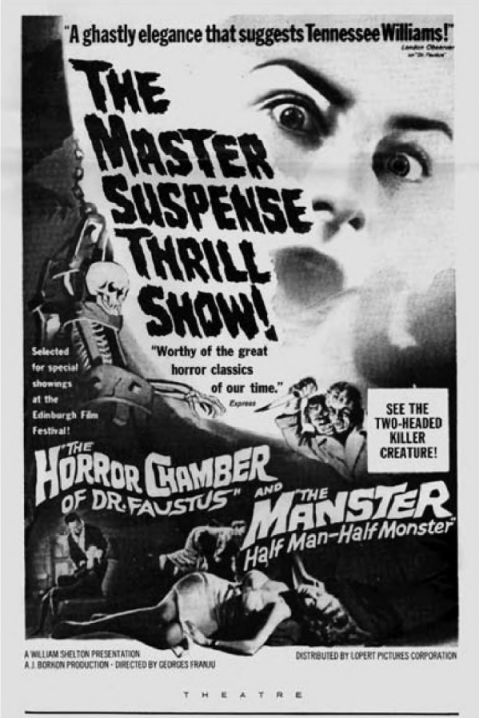 Newspaper ad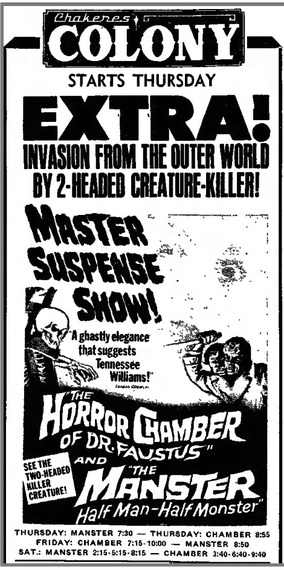 1963 ad, courtesy of "Rick"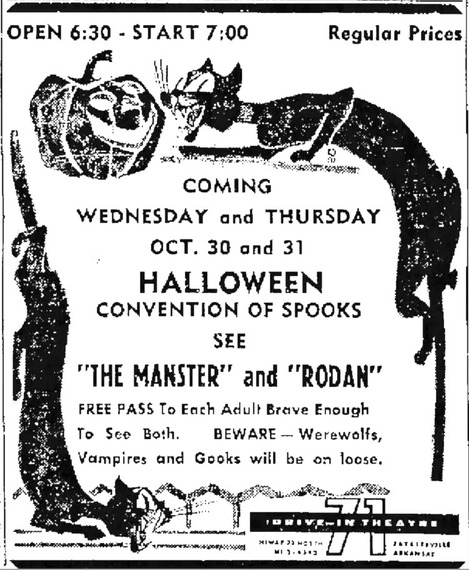 1963 ad, notice how the film this time is teamed with the Japanese Rodan, courtesy of "Rick"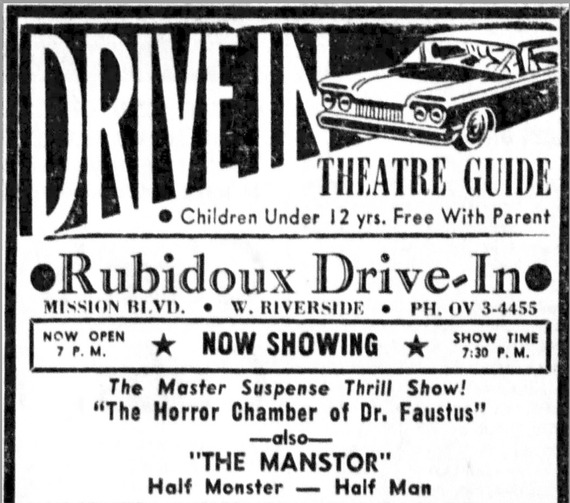 1962 ad, courtesy of "Rick." Not going to comment on the spelling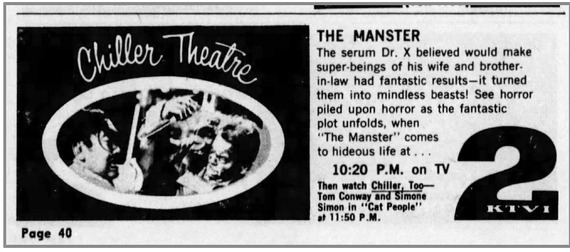 1964 Chiller Theatre TV ad, courtesy of "Rick"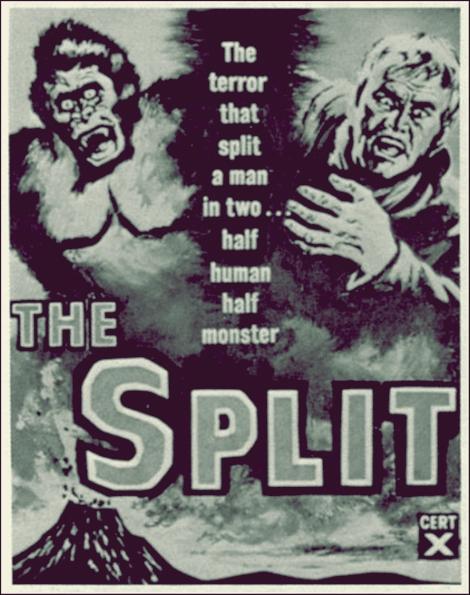 British ad, notice the "X" certificate. Courtesy of "doctor kiss"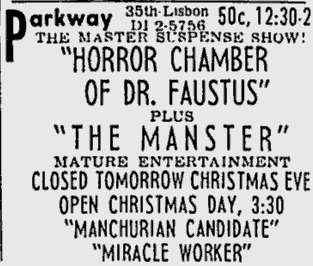 1962 newspaper ad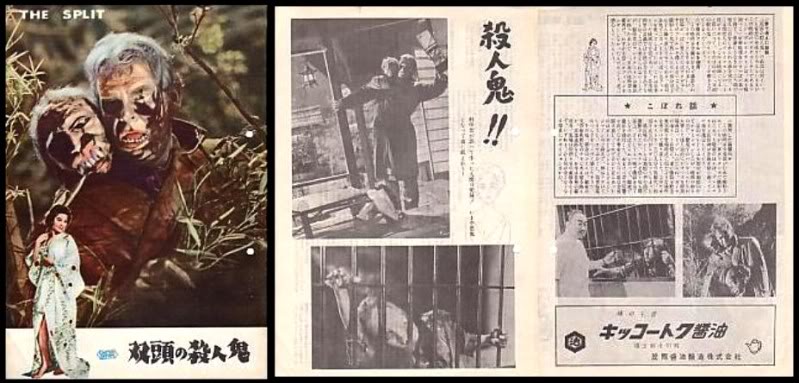 1959 Japanese print ad, courtesy of "doctor kiss"
Trailers
US Cinematic Trailer
US Double Feature Trailer
Double Feature Press Book
Courtesy of Zombos' Closet
Miscellaneous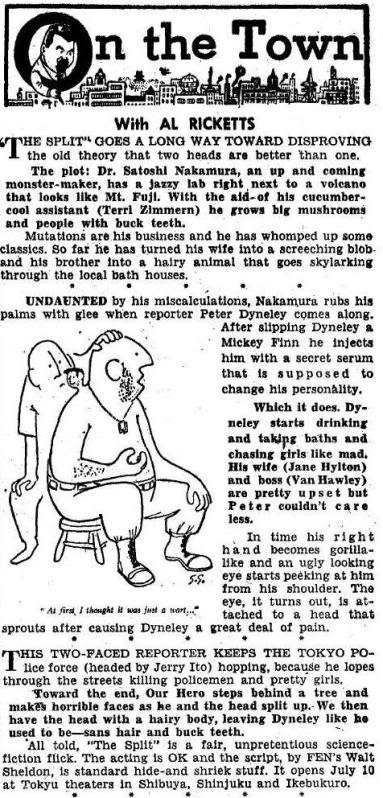 1959 review from The Pacific Stars & Stripes, courtesy of "doctor kiss"
1958 newspaper clip about the making of the film, also from the "On the Town" column by Ricketts, also courtesy of "doctor kiss"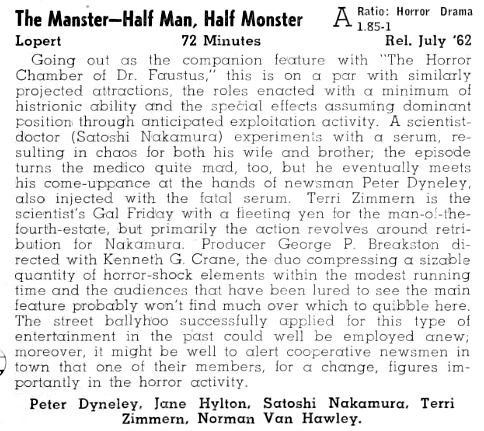 1962 review, courtesy of Paul Haight
Bibliography
"SPLIT, The." Review. Monthly Film Bulletin, May 1961.
Kitamura, Hiroshi. "Hollywood's 'New' Orientalism: The Case of Tokyo File 212 (1951)." Historical Journal of Film, Radio and Television 29, no. 4 (2009): 505–22.
"Lisa Marie." Esquire 136, no. 2 (2001): 27.
Gonder, Patrick. "Like a Monstrous Jigsaw Puzzle: Genetics and Race in Horror Films of the 1950s." Velvet Light Trap, 2003, 33–44.
Lucas, Tim. "Les Yeux sans Visage/The Horror Chamber of Dr. Faustus/The Manster." Sight and Sound 18, no. 8 (2008): 34.
Ricketts, Al. "On the Town: The Split." Review. Pacific Stars and Stripes, June 30, 1959.
Unknown. "The Manster – Half Man, Half Monster." Review. Boxoffice, June 25, 1962.