5 disc ultimate dvd set
In 2012, this version spanning 5 – five – discs was released by WTF Films. Below are the official contents.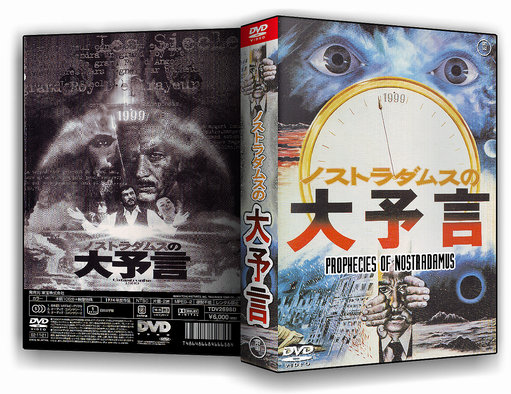 Disc 1: Nosutoradamusu No Daiyogen
The original uncut 114 min Japanese version of the film
Aspect Ratio: 2.35:1 Widescreen
Audio: Japanese Language with English Subtitles
Disc 2: Prophecies of Nostradamus
This is the 90 min English language International release cut of the film.
Aspect Ratio: 2.35:1 Widescreen
Audio: English Subtitles
###Disc 3: La Fin Du Monde D'Apres Nostradamus and Weltkatastrophe 1999
These are the uber-rare French and German cuts of the film, both running around 70 minutes and presented in 2.00:1 widescreen (French and German audio with no subtitles) The French cut is particularly interesting in that whole scenes have been shifted in position throughout the film to create, if imaginable, an even weirder cut than the original.
Disc 4: The Last Days of Planet Earth
This is the 80 min UPA television version that played in the U.S.
Aspect Ratio: 1.33:1
Audio: English Dubbed
Disc 5: Bonus Features
The International cut of the film (1.85:1 widescreen, English dubbed) Two versions of the soundtrack (the original monophonic and the utterly warped original stereophonic version, featuring alternate version of the soundtrack cues you are familiar with), hundreds of images (in three galleries) The Japanese audio Drama CD recording (presented with optional English subtitles). DVD-ROM features include excerpts from a book on the making of the film as well as a reproduction of the original theatrical program - both in .pdf format.