Sounds
Soundtrack album
The stellar soundtrack was composed and conducted by Isao Tomita who also played the synthesizer. It has been released three times.
1974 Toho Records Edition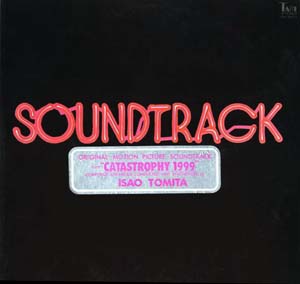 Track List
(Side A) Soundtrack 1
(Side B) Soundtrack 2
1996 Vap/J Cine Edition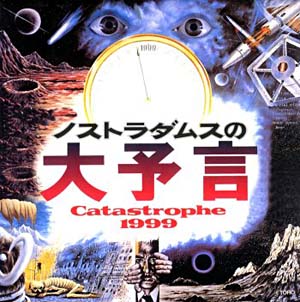 Track List (as translated by Ted Johnson)
Toho Mark/ Five Years of Fortune
Seven Years of Fortune/ Arrival of Black Ships
Poetic Prophecy of Defeat
Main Title
Bar Lesson BGM
Environmental Pollution
"The Centuries"
Conference/ Red Tide Raid
Moonlit Night on the Beach
United Couple
Kida's Wailing
Modern Ballet BGM/ Man's Hallucinations
Subway Accident/ Sudden Mutation
Nishiyama's Warning
Abnormal Weather
New Guinea Expedition
Giant Animals Raid
Cannibalism
Mad Demon
Cave of the Living Dead
Hell on Earth/ Burial
Omen of the End
From Mother to Daughter
Under the Cherry Tree in Full Blossom/ Car Radio BGM
Death of Young People
Rioters
Loved One's Death
Mirage
Eternal Life
Fear of Radioactivity
Final Nuclear War
Silence World
Prayer to the Future - Ending
Bar Lesson BGM (outtake) (bonus track)
Cannibalism (outtake) (bonus track)
Death of Young People (non-synth) (bonus track)
Loved One's Death (non-synth) (bonus track)
Eternal Life (non-synth) (bonus track)
Love Theme (mono) (bonus track)
Main Title (Record Stereo) (bonus track)
Love Theme (Record Stereo) (bonus track)
2015 Contempo Records LP Re-Issue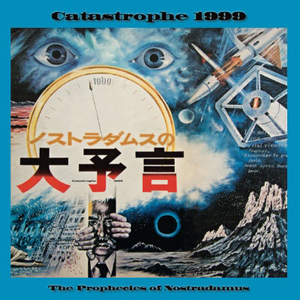 Track List
Elsewhere
1974 Toho Records 7" Single
This has only been released once. Please let us know if you have better scans!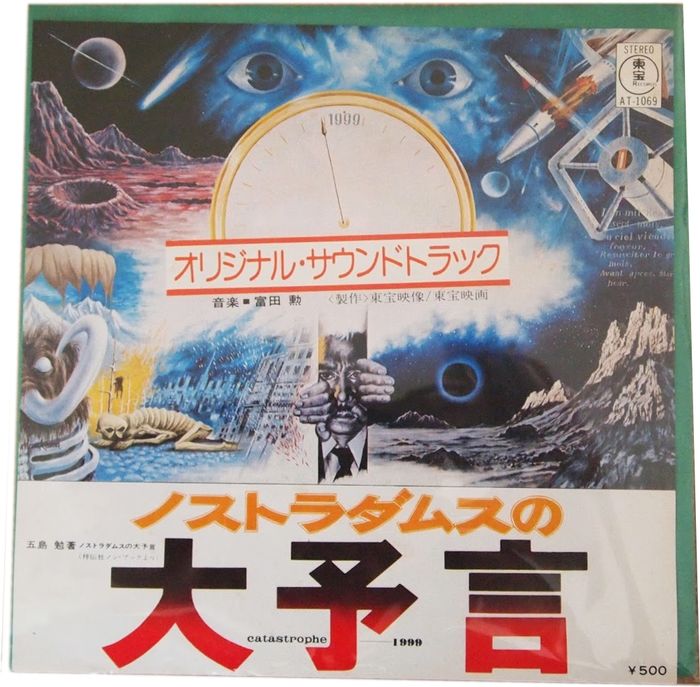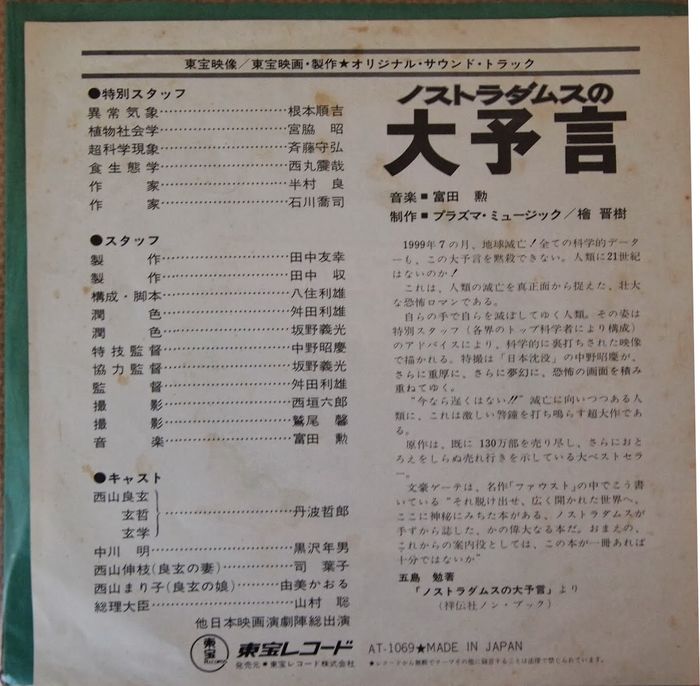 Track List
Main Theme
Love Theme
The Champion Matsuri Collection
Predominately throughout the 70's, Toho would release films as part of a collection they called the "Champion Matsuri" [Champion Festivals]. It would generally consist of a film, an animated short, and an episode of the various Ultraman series. Sometimes it would have a new production, sometimes it would be a re-release of a 50s or 60s classic film cut down to 75 minutes or so. The Toho SFX Champion Festival Box Set featured the scores for 18 tokusatsu films spanning 1969 to 1978 across 10 discs.
Track List (as translated by Ted Johnson)
Downfall Theme I
Main Titles
Conference/ Red Tide Raid
United Couple
Theme Arrangement I [Kida's Wailing]
Downfall Theme II [Environmental Pollution]
Subway Accident
Theme Arrangement II [Nishiyama's Warning]
Abnormal Weather
Downfall Theme III
New Guinea Expedition
Downfall Theme IV [Sudden Mutation]
Giant Animals Raid
Mad Demon
Downfall Theme V [Cave of the Living Dead]
Downfall Theme VI [Hell on Earth]
"The Centuries"
Downfall Theme VII [Burial]
Omen of the End
Loved One's Death
Downfall Theme VIII
Setting Off to Death
Downfall Theme IX [Silenced World]
Eternal Life
Love Theme
Drama CD
This 2-CD is not a collection of soundtrack music from Catastrophe 1999. Instead, it is a straight recording of the entire film from beginning to end, including music, dialogue and sound effects. The movie was released in Japan August 3, 1974 and in the US July 13, 1979. Such releases are fairly common in Japan.
Track List (as translated by Ted Johnson)
Disc 1
Toho Mark/ Black Ships Come to Harbor
Pacific War End/ Nagasaki Military Police Interrogation Room
Flash! Main Titles
Nishiyama Institute for Environmental Studies
Return of Akira
City of Pollution
Yumenoshima - Giant Slug Occurrence
The Book Inherited Down Through the Centuries (uncertain)
Nature and Human Beings and the Future/ Red Tide Sea
In the Moonlight …
Doctor's Philosophy
Investigation Team Starts/ Future of Our Children …
Pollution Archipelago/ The True Humanism?
World Goes Mad/ Geneva International Discussion
To New Guinea
Swarm of Vampires
Disc 2
Dark Night Raid
Silence of Death/ Tragedy of the First Survey Team
Big End Panorama
Nobuo's Disease
End of the Riots (uncertain)
Shining of Beautiful Maidens, Will Not Shine Anymore…
Hunger Archipelago
Death of Nobuo
Illusion of the End of the Century
Eternal Life
Warning to Humanity
Catastrophe 1999 – Inherit the Stars
Human Anthem – Hope to the Future
Elsewhere