About the Film
By Jules L. Carrozza
Quick Facts
ノストラダムスの大予言/Nostorodamasu no Daiyogen (Great Prophecies of Nostradamus); AKA: The Last Days of Planet Earth (US title) 8.3.1974, Toho (Japan), 114 minutes, 35mm, color, Panavision (2.35:1), mono (Japanese dialogue)
Cast and Crew
Producers: Tomoyuki Tanaka, Osamu Tanaka
Director: Toshio Masuda
Special Effects Director: Teruyoshi Nakano
Screenplay: Yoshimitsu Banno, Toshio Masuda, Toshio Yasumi (script The Last War), Ben Goto (book Great Prophecies of Nostradamus)
Second Unit Director: Yoshimitsu Banno
Cinematographers: Rokuro Nishigaki, Kaoru Washio
Music: Isao Tomita
Editor: Nobuo Ogawa
Assistant Director: Fumisake Okada
Art Director: Yoshiro Muraki
Lighting: Shinji Kojima
Sound Recording: Kanae Masuo
Production Manager: Hisayuki Murakami
Assistant SFX Director: Koichi Kawakita
SFX Cinematography: Mototaka Tomioka, Takeshi Yamamoto
SFX Art Director: Yasuyuki Inoue
SFX Lighting: Masakuni Morimoto
SFX Unit Production Manager: Keisuke Shinoda
VFX Optical Photography: Takeshi Miyanishi
VFX Opticals: Yoshio Ishii
Monster Design (Soft-Bodied Humans): Toru Narita
Stunts: Chihiro Mitsuishi
Choreography (Dance): Kiyohiko Kawanishi
Still Photographer: Yoshinori Ishitsuki
SFX Still Photographer: Kazukiyo Tanaka
Cast: Tetsuro Tanba (Dr. Ryogen Nishiyama/Genkei Nishiyama/Gengaku Nishiyama), Toshio Kurosawa (Akira Nakagawa), Yoko Tsukasa (Nobuo Nishiyama), Kaoru Yumi (Mariko Nishiyama), Kaori Taniguchi (Orin), Yoshiro Aoki (Military Police), Masaru Ryuzaki (Oone), Katsuhiko Sasaki (Yoshihama), Shosei Muto (Ihara), Jun Hamamura (Kida), Kumeko Otowa (Mrs. Kida), Tomoe Mari (Kida's daughter), Tappei Shimokawa (Captain of Self Defense Force), Akihiko Hirata (Botanist), Hiroshi Koizumi (Zoologist), So Yamamura (Prime Minister), Mizuho Suzuki (Director of Environmental Agency), Taketoshi Naito (Chief Cabinet Secretary), Sayoko Kato (Bus Girl), Mikizo Hirata (Sanji Nakagawa), Tatsuo Nakamura (Katsuko Nakagawa), Takashi Shimura (Hospital Director), Masahiko Tanimura (Tayama), Kazuko Inano (Hamako), Kazuo Kato (Scholar), George F. Flymm (US Representative), Willie Dorsey (African Representative), Franz Gruber (Dr. Wilson), Tony Cetera (Research Scientist), Rolf Jesser (Research Scientist #2), Osman Yusuf (Research Scientist #3), Isamu Sugii (Soft-Bodied Human), Nobuyuki Nakano (Soft-Bodied Human #2), Shunsuke Kariya (Leader of Rioters), Goro Naya (TV Newscaster), Kyoko Kishida (Prophetess, voice), Shinji Nakai (Narrator, voice)
Plot
It's the end of the 20th century and the world is in all sorts of environmental and geopolitical turmoil. Environmentalist Dr. Ryogen Nishiyama has become convinced, with the prophecies of French scholar Nostradamus as his guide, that the world may be coming to an end. Nishiyama desperately tries to warn Japan's politicians that ecological disaster is swiftly approaching, but no one listens. Soon disasters begin to take place across both Japan and the world. Children develop strange abilities after drinking water from a zinc mine. As climate change worsens, snow falls on Egypt, drought plagues Africa and flooding swamps the Midwestern US, ruining its crop belt. Meanwhile, an expedition sent to New Guinea to investigate some strange natural phenomena after a nuclear test in the area has gone missing. Nishiyama along with his daughter's fiancee Akira Nakagawa go to New Guinea in search of the missing party and what they find is truly horrific. Later, SST jet disasters split open the ozone layer and because of worldwide food shortages Japan's government is forced to put its citizens on a rationed diet, which causes violent rioting and looting to break out while young people commit suicide in large numbers. Nishiyama goes before the Japanese parliament to warn them on the disasters that soon befall both Japan and the world. But will they listen to him this time?
Americanization and Dubbing
Despite the film's controversial reception in its homeland, an export English version was indeed prepared. The dubbing was done in Hong Kong and this was one of the first 1970s Hong Kong Toho dubs devoid of the voices of Ted Thomas, Warren Rooke, Chris Hilton and other notable kung fu dubbers. It was dubbed by a competing HK dubbing studio run by Matthew Oram which Toho continued to use into the mid 80s while Shaw Brothers and other HK studios continued to use Ted Thomas' firm. The dubbing cast includes Matthew Oram (Dr. Nishiyama), Barry Haigh (Akira/Newscaster) and Michael Ross. This international version is cut down to about 87 minutes and is missing a lot of character development scenes, including a subplot where Nishiyama's elderly assistant Kida's daughter has a deformed baby. The prologue explaining the Nishiyama family's historical interest in Nostradamus is also cut completely as is the epilogue with the Prime Minister's speech. Despite the cuts, all of the film's most lurid footage is left intact including the footage trimmed in the Japanese rerelease. This gives the film more of an exploitation movie feel. The film did get a limited theatrical release in Japanese-American theaters but it's unknown if it played dubbed or subtitled or which version was shown. The full international English version was available on a Danish PAL VHS.
It wouldn't be until 1981 that the film would widely come to the US, via a new version from Henry G. Saperstein's UPA which bought the rights to the picture. This version, entitled The Last Days of Planet Earth, was sold directly to TV and is a strange bastardization that tries to turn the film into a bizarre docudrama akin to The Man Who Saw Tomorrow (also 1981) with Orson Welles or like a Sunn Classics production. The export English dubbing is left basically intact, but pointless narration by Jack Ryland is added which supplants the female narrator's prophecy readings but also occasionally drowns out the dubbed dialog. The rest of the film is fairly close to the international version, but is missing some additional character development scenes (such as Akira meeting Mariko as she teaches ballet to some children) as well as nudity and gore such as shots of actress Kaoru Yumi topless, a shot of one of the New Guinea mutants feasting on a doomed member of the expedition and a shot of the first Soft-bodied Human feasting on a snake. The dance sequence with Kaoru Yumi is also cut. A few lines in two scenes from the film are actually redubbed as the English track has the female narrator (Woman in the Dunes' Kyoko Kishida in the Japanese version) reciting a prophecy over it and the other for no apparent reason. Interestingly enough, some footage from the Japanese version that was cut from the international version is actually added back in. This includes some short excerpts from the prologue which lead you to believe that Nishiyama's father isNostradamus as well as a short bit from the Kida baby scene and a tranquil montage of Japan's beauty shown right before the snow in Egypt scene. This also an additional sequence likely filmed by UPA showing a transmission about New Guinea being received and monstrous grunting is added to the Soft-bodied Humans scene and some shots have been flipped for some reason. The ending is pretty mind numbing as it features a montage of tranquil sequences from the film's epilogue intercut with disaster scenes taken from earlier in the movie. The runtime of Last Days of Planet Earth is 88 minutes. This version, needless to say, is difficult to enjoy and, being the only version of the movie ever officially available on home video, has tarnished this epic doomsday movie's reputation.
Home Video History
In Japan, the film was never released on any home video format because of Toho's self imposed studio ban and until certain political issues in Japan cool down, probably won't be in the foreseeable future. It seems especially unlikely that it will be released in the wake of the Fukushima Daiichi power planet disaster, which the film actually predicted and has very much reignited Japan's anti-nuke movement. It was nearly released on VHS and laserdisc in 1986 (along with Half Human and Varan, Toho's other two "politically incorrect" films) but additional protests caused Toho to shelve the releases of the two former films. Varan was however released in a slightly edited version. Later, somehow from someone, copies of the masters of both Nostradamus and Half Human, complete with timecode, were leaked and began making the rounds among bootleggers.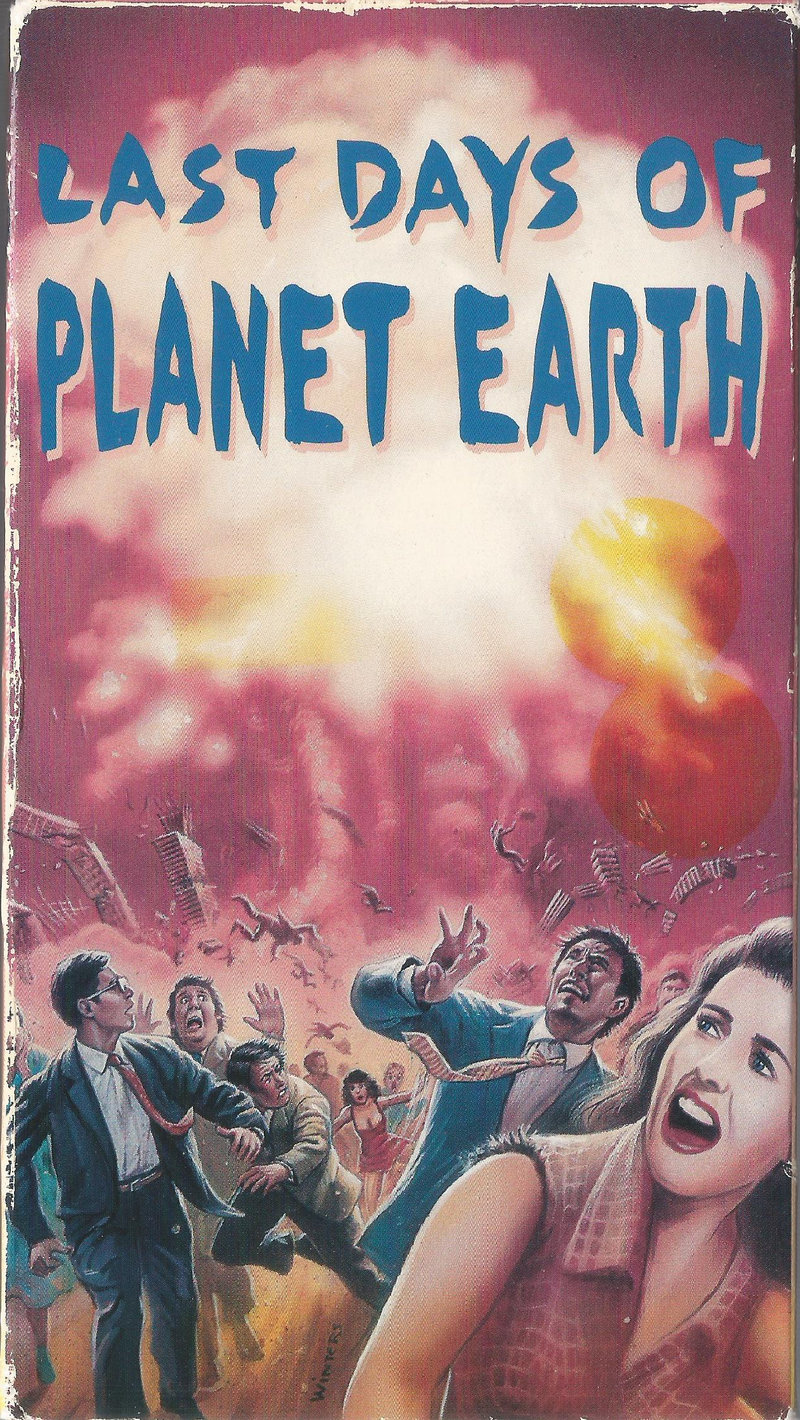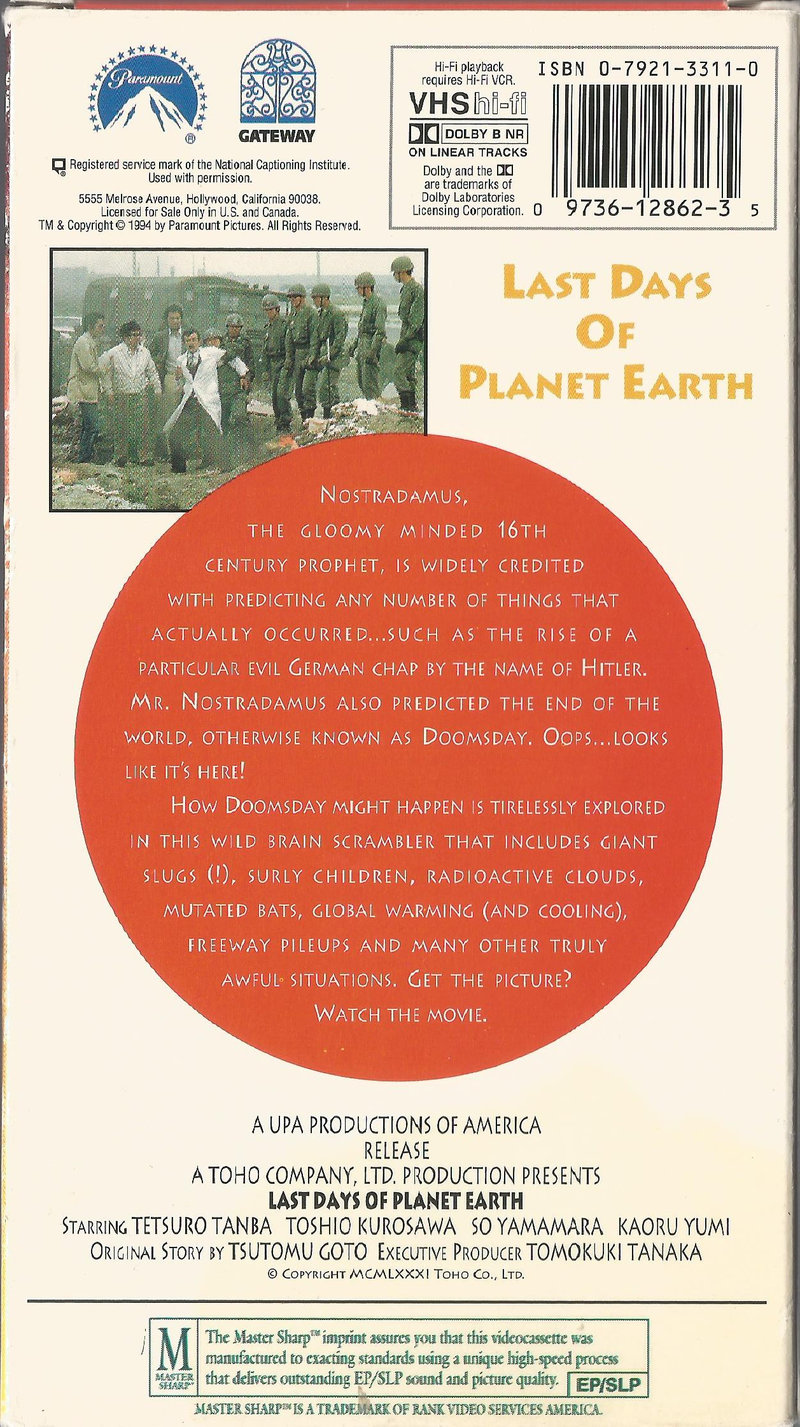 The US VHS tape front and back (Paramount/Gateway).
The only official release the film has ever gotten in NTSC format is a release in the U.S. of The Last Days of Planet Earth by Paramount/Gateway on VHS and laserdisc in 1994. This film is badly panned and scanned but it remained the only way to legitimately see the film for quite some time. Since then, the rights have reverted from UPA back to Toho and no US distributor has picked up the film. There is conflicting info as to whether Toho is willing to offer the film to US distributors. Some say they refuse out of fear that such a release on DVD or Bluray will be imported back to Japan. I once e-mailed Discotek Media about picking up the film but got no reply. However, it was listed in Toho's sales catalog for quite some time with a runtime of 113 minutes, so who knows.
Trivia
The film was Toho's highest grossing film that year, grossing over 680 million yen.
Filming of one explosive FX sequence caused a massive fire that burned down part of the special effect unit's soundstage. Some suits and props from Toho's classic tokusatsu productions that were in storage were sadly destroyed in this accident, including the Mogera suit from The Mysterians (1957).
Yoshimitsu Banno (director of Godzilla vs. Hedorah) was the film's scriptwriter and also acted as second unit director (credited as "Cooperative Director"). Much of the film's ecological horror aspect was his doing. He also directed a sizeable part of the New Guinea sequence. There is a similar sequence to Hedorah in which the pollution causes Akira (Toshio Kurosawa) to hallucinate which he may have directed. The footage of turmoil in Africa was from his documentary Cruel Famine Continent (1973).
Currently under a self imposed studio ban from Toho itself, similar to Disney's treatment of certain films like Song of the South. When the film was released, a group of Hiroshima survivors found the film offensive and protested it. There were two sequences in particular they found distasteful. The first was the sequence in New Guinea where Nishiyama's expedition is attacked by cannibalistic mutants. The other is a sequence showing a post apocalyptic world where two grotesquely deformed post-nuke mutants (called Soft-bodied Humans in Japan) brawl over a snake they want to eat. They felt the film depicted survivors of radiation as monsters and would worsen already severe discrimination of hibakusha (radiation survivors) in Japan. This was a very similar situation to when Ultraseven's infamous episode 12, featuring a bloodsucking, radiation poisoned alien monster, angered hibakusha over similar political incorrectness. After intervention from Eirin, the regulatory board, Toho pulled the film from theaters and reedited it and the last time it was seen legitimately in Japan was a TV broadcast in 1980. It was nearly released to home video in 1986 but the release was cancelled. Since then, Toho has adopted a more and more conservative policy toward the film, even refusing to allow books to use stills from the film. Toho, has, however released a "drama CD" of the film's audio as well as a soundtrack of Isao Tomita's score, which are the closest you will get to legally seeing the full, uncut version in Japan.
In one scene (which is truncated in both the international and US versions), Dr. Nishiyama (Tetsuro Tamba) mentions a food preservative called AF-2. This is a reference to a real public health scandal which was then very hot in Japan. AF-2 or Furylfuramide had been used as a food preservative in Japan but was found to have carcinogenic properties. It was taken off the market in 1974, right before the release of this film.
One of director and SFX director Shinji Higuchi (Gamera trilogy, Attack on Titan, Shin Godzilla)'s favorite films. He credits it as one of the first films that got him into tokusatsu movies and he later provided graphic art for the drama CD.
Toshio Yasumi was credited with the script in an honorary fashion since the film recycles elements from his script of The Last War (1961) as well as containing a considerable amount of stock footage from that film. The actual script was co-written by Yoshimitsu Banno and director Toshio Masuda.
Despite the film's controversy, a sequel was planned for release in 1975 which would have brought back most of the film's staff including director Masuda and SFX director Nakano, but in the end Toho thought better of it. The movie was to be called Fear of the Great Devil, and Toho Kingdom lists the synopsis as such:
"Troubled by the predicted downfall of the world, reporter Tsutomu Goto begins investigating a spirit medium experiment being conducted at the labs of the University of East Asia. The experiment is aimed towards reaching the long deceased Nostradamus in hopes of shedding light on his prophecies for the end of the world. Unfortunately, the experiment fails to make contact with the French prophet, but research is interrupted by an ominous UFO hanging over Japan …"
The Fukushima Daiichi nuclear power planet in Fukushima prefecture is shown melting down and exploding in one scene, as theorized by Dr. Nishiyama, due to an earthquake. This same event would more or less happen during Japan's 2011 earthquake and tsunami on March 11, 2011, nearly 37 years after the release of this film.

Francis Ford Coppola wanted Tomita to score Apocalypse Now but couldn't secure him. Coppola and his father then composed a score aping Tomita's style. The workprint of "Now" was scored with Tomita's music.